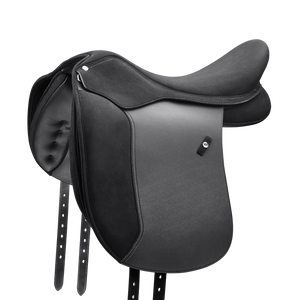 Designed especially for you and your wide horse to train or compete at any level in total comfort.  Feel supported in the super-soft, deep seat of the Wintec Pro Wide Dressage and experience total luxury in a top-of-the-range dressage saddle.
Experience exceptional stability and support with a grippy material on the seat and refined design to provide a close contact feeling allowing effortless leg communication for the delivery of aids.
For your wide horse, they will enjoy the super-soft panels mold in and around their muscles, hugging their unique conformation and freeing them to move whether training or competing in dressage. 

Wintec Saddles have all of the benefits of Horse and Rider Technology… we call this HART. For more information please visit horseandridertechnology.com