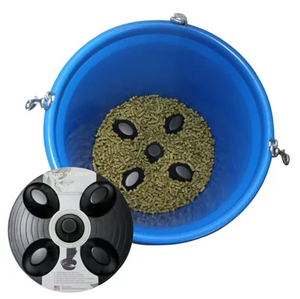 Patented Portable Equine Slow Feeder Insert Designed To Reduce Choke, Curb Bad Eating Habits and Promote Healthy Digestion in Horses 11.5x11.5x1.75 Inches - Fits 12 Inch Round Feed Tubs
Drop 'N' Slow is easy to use. Simply place in a round feed tub with a 12" diameter.
Easy to clean. Just pull out of feeder and hose or wash off and reuse again.
Portable design makes it easy to remove and bring to shows or clinics.
Durable polyethylene tough enough for the roughest horses.
Ridges provide proprioceptive feedback against the horse's muzzle to encourage natural foraging behavior.
Bumpers are designed specifically to compliment equine mouth conformation.
Effective with all types of grain and hard pelleted feeds.
Bumpers create small portions making grabbing large mouthfuls of grain difficult.
Stackable design allows for several Drop 'N' Slow feeders to nest neatly inside each other for minimal feed room clutter and better storage.